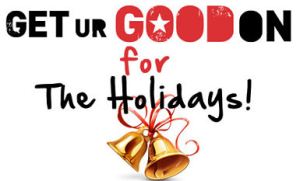 A few years ago, I realized that my husband and I had everything we actually needed.  So when the holidays came around, it was exhausting trying to think of things to buy that the other already didn't have.  Quite frankly, it seemed that we were buying for the sake of buying and really not epitomizing the true spirit of Christmas.   So we took the iphones, electronics, and clothes off our list and decided to change our Christmas buying habits for the good.  There are so many easy ways to give during the holidays, but here are some of our favorites.
7 Easy Ways to Give Back During the Holidays
1. Send a veteran a holiday card: Team up this holiday with the American Red Cross' Holiday Mail for Heroes and send our troops a card to let them know you are thinking of them.
2. Adopt a family – you can work with a local church or charity to find a family to help.  If you are in the south Florida area, Neighbors 4 Neighbors can match you with a needy family or nationally the Salvation Army can.
3. Donate a toy – Toys for Tots is an easy way to donate a toy.  There are national drop off locations at Toys R Us and Babies R Us.  You can also consider contacting your local schools, foster care charities and homeless shelters as they usually hold toy drives.
4. Donate nonperishable items to a food pantry – often times food drives get associated with Thanksgiving and there becomes a shortage of food come the holiday time.  Work with your local food pantries and homeless shelters to drop off items. Too busy? Then start a virtual food drive.
5. Have your family make a donation to your favorite charity as a gift – friends and family can go directly to a charity and make a gift on your behalf. However, another creative way is TisBest. Gift givers can purchase charity gift cards for you to spend at any of your favorite nonprofits.
6. Save your change – Consider skipping your favorite coffee shop and drop off the change in the Salvation Army Red Kettle.  Don't have one near by?  You can also donate to the Red Kettle online.
7. Purchase holiday cards that give back – if you're planning on sending holiday cards, purchase cards that give back to a charity. For a suggested donation, St. Jude will even print and mail your cards for you.
Now don't go thinking that my husband and I have gone all Mother Theresa and don't receive any gifts.  While we've limited the amount significantly, we do still give each other small gifts and have really enjoyed adopting several of the ideas above.   Adopt a few yourself and experience a whole other level of Christmas.
Kelly Unplugged
What are some other easy ways you can give during the holidays?