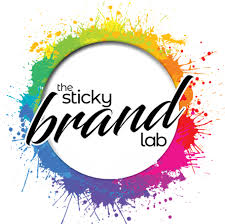 Confession. I'm late to the game on podcasts. It could be that raising a 4 year and growing a business had something to do with it. Nonetheless, I was invited to be a guest on the Sticky Brand Lab to share how I was able to get a single client when there was no real industry for what I had created.
**Fun backstory – we were recording the podcast on a Sunday and I had called my mom prior to just to chat. My son hit the FaceTime button and as the conversation progressed and I told her about the podcast, she says….. "and that is how you're going to look on camera?!" I had to remind her the difference between a podcast and a zoom meeting. And if you're Hispanic, you understand that those Cuban mamas and abuelas  always want you looking presentable at all times!
I'm so proud of what we've built.  If you miss hearing my voice, you want nuggets about starting your own business or want some fun facts about me (wait until the end), then I hope this helps you.