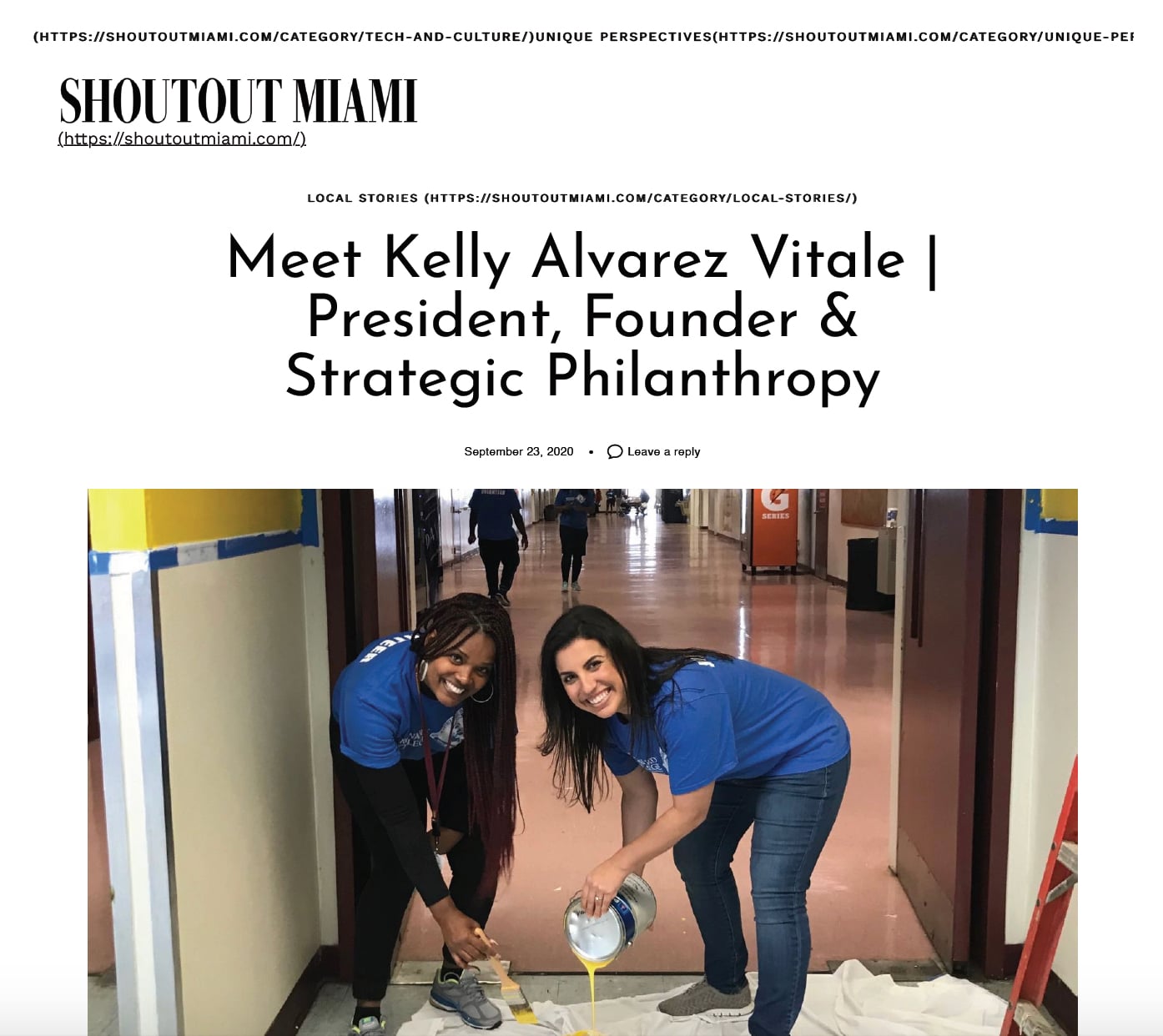 We had the good fortune of connecting with Kelly Alvarez Vitale and we've shared our conversation below.
Hi Kelly Alvarez, we'd love to hear more about how you thought about starting your own business?
I have three distinct memories that helped inspire me to start my own company.
1) Never having been a true morning person (until I had a son), I had the opportunity to make my own hours during an internship in graduate school. I would start my day at 10 a.m. and remember thinking, I wish I could start every day like this (although I start much earlier these days!). That internship also allowed me to create a program from scratch for the athletic fundraising arm of the university and I really felt invigorated as I got to dabble in a bunch of different aspects of business – Marketing, Development, IT, etc. and knew that I always wanted that feeling.
2) Upon graduating, my first job was as a development director for a large nonprofit whose focus was pitching corporate clients on cause marketing. Although it was a nonprofit, it was a very corporate environment where we tracked weekly sales calls and the number of meetings we had a week. It was during this experience that I realized that despite being a fast worker, I had to sit in the office for eight (8) hours, although I could get the work done in four (4). I wasn't incentivized to work faster, because either way, I was chained to my desk for eight (8) hours. During my time in this environment, I also realized that I might want to become a mother some day and actually be involved in my child's life. Many in the corporate world know that corporate America doesn't allow for it. I watched as mothers on my team had to ask for permission and take vacation time to take their children to doctors' appointments or attend programs at school. I quickly realized that corporate America wasn't set up for mothers and I knew I didn't want to ask for permission to be part of my child's life.
3) Lastly, I knew I wanted to get into corporate philanthropy, but it's the job that no one retires from. It was difficult to break into the field as departments are normally very small with just one person managing the community outreach initiatives. So, after my husband proposed the idea to start my own company, I purchased a book on Amazon called "How to Start a Business" and read it at coffee shops during off times. I worked through the exercises to determine if this was a viable idea. So, with an idea, a business plan, a brilliant husband (who also serves as a mentor), and the daughter and granddaughter of Cuban immigrants who built a business in south Florida, I knew that failure was not an option. If my grandparents, who had lost everything and didn't even speak the language when then arrived to this country, were able to create a successful business, then I could too. So I took a big leap of faith and jumped.
What should our readers know about your business?
At Strategic Philanthropy, we believe that companies can "do good and do well." We saw a need for a new philanthropic approach and founded Strategic Philanthropy in 2012 on the belief that effective corporate giving is one that fits an organization's business goals, values and objectives. We understand how targeted philanthropy can help organizations indirectly market products and services to clearly defined market segments and have witnessed how effective philanthropy opens business opportunities. Strategic Philanthropy was one of the first corporate philanthropy consulting firms to launch in Florida. Was it easy? Well, it wasn't a cake walk. The first few years you are doing everything on your own – business development, marketing, sales, ordering paper and ink, data entry and making minimal income. Furthermore, as a type A personality, I'm constantly seeking perfection, which is unattainable (I know). I had the mindset that if we do "this," then we'll get to this relaxing state. But like a person, a business is always evolving and growing and when you conquer one phase, another challenge pops up. So allowing myself to be open to the company's growing pains and adapting and solving for them as they arise has been a big lesson. And despite being a confident person, you always hear the "I can't" monster in your head. Fortunately, my husband is a big believer in me and the company and helps me push that monster aside when he rears it ugly head. What I want people, and mostly our team, to know is that the work we do has actual meaning. We are really helping companies and their employees give back and ultimately helping our communities. I also want my team, and future team members, to know that work is a piece of who they are. We have built the company so that people have the freedom and flexibility to live their own life – whether they work from the beach and do yoga or want to pick up their kids every day from school. My team will often hear me say, as long as the work gets done, I don't care what time it gets done. Just meet the deadline.
Any places to eat or things to do that you can share with our readers? If they have a friend visiting town, what are some spots they could take them to?
So I live, work, play in Fort Lauderdale and since most of my besties live up north, all things "water" is normally the theme. Pre Covid-19, we'd start Friday by heading to happy hour at the Wharf in downtown Fort Lauderdale or S3 on the beach. There's nothing better than the view of the river or ocean waves while having a cocktail. We'd head to dinner on Las Olas pending what we're craving and end the night raiding Hoffman's Chocolates on Las Olas for ice cream and chocolates for dessert. On Saturday, we'd head to the Ritz Carlton Fort Lauderdale for one of the best spa experiences and then head to either the beach or pool. We might rent a boat and cruise down the intracoastal. Next, we'd head to dinner at either Burlock Coast, Steak 954, Dune or El Vez – all gorgeous beach side restaurants. We'd wake up Sunday morning and head to brunch at Foxy Browns for the most delicious and creative breakfast in town or Boatyard for the best Bloody Mary's bar.
Who else deserves some credit and recognition?
In addition to my husband, parents and grandparents whose life experiences and lessons ultimately helped shaped me, there are two books that I swear by and feel they have helped my business tremendously. "Good to Great" by Jim Collins, taught me in Chapter 1, that you need to get the right people on the bus. So ensuring that the right people are at my company is important to our success. The second book is "Strength Finders 2.0" by Tom Rath which believes that building your team based on their personal strengths, will invigorate them to be better teammates and help the company succeed. I actually make every interviewee take this exam before we even get to a face to face interview so I can try and ensure they are the best candidate for the company and the position. Because of these two books, I've been incredibly lucky to have found stellar teammates.
Website: www.StrategicPhilanthropyInc.com
Linkedin: http://www.linkedin.com/in/KellyAlvarezVitale
Facebook: Facebook.com/StrategicPhilanthropy
Youtube: www.youtube.com/DoGoodDoWell
Meet Kelly Alvarez Vitale | President, Founder & Strategic Philanthropy