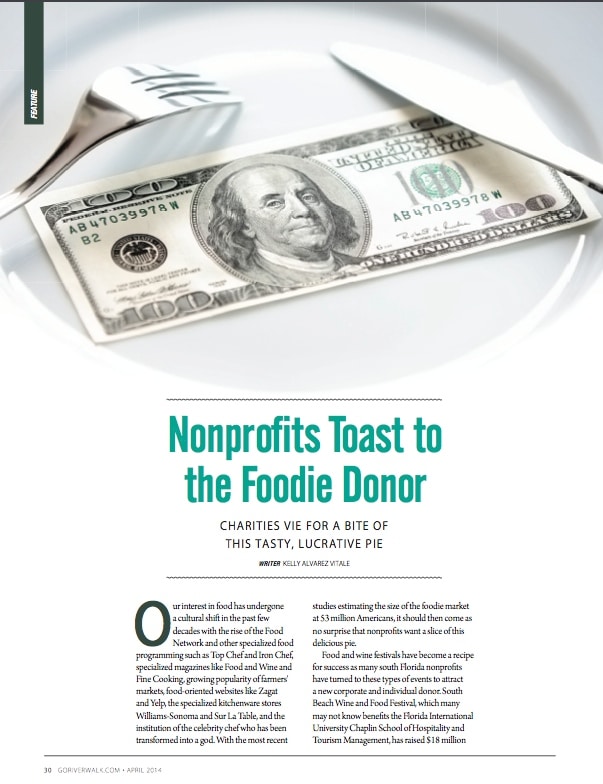 Our interest in food has undergone a cultural shift in the past few decades with the rise of the Food Network and other specialized food programing like Top Chef and Iron Chef, specialized magazines like Food & Wine and Fine Cooking, growing popularity of farmers' markets,  food-oriented websites like Zagat and Yelp, specialized kitchenware stores like Williams-Sonoma and Sur La Table and the institution of the celebrity chef who has been transformed into a god.  With the most recent studies estimating the size of the "Foodie" market at 53 million Americans, it should then come as no surprise that nonprofits want a pie of this delicious pie.
Food and wine festivals have become a recipe for success as many south Florida nonprofits have turned to these types of events to attract a new corporate and individual donor.  South Beach Wine & Food Festival, which many may not know benefits the FIU Chaplin School of Hospitality and Tourism Management, has raised $18 million over the last 12 years.  Locally, the Museum of Discovery & Science's Wine, Spirits and Culinary Celebration raised over $190,000 in 2013 alone and had over 2,000 guests in attendance.  Riverwalk Trust's annual Burger Battle lures 1,500 hungry carnivores and has raised over $140,000 over the last three years to beautify and activate the Riverwalk while ARC Broward, which hosts both The Traveling Plate and Delish, has partnered with celebrity chefs Michelle Bernstein and Michele Ragussis to give donors an added experience.
Corporate sponsors have taken a liking to these types of events because the concept is still relatively new in comparison to the traditional gala.  In addition, they can market their product to the food lover and these events offer great client entertaining opportunities.  Not every business deal is made on the golf course.  Some of the best deals are made over food and wine and it's even better when it benefits a great cause.
While the traditional food enthusiast (and donor), has been older, white, and affluent and used the dining experience at some at the finest restaurants as a status marker, this food revolution has redefined the demographics and sociographics of who eats good food and opened the door to the and young, urban Millennial, which some nonprofits consider to be the next generation of donors.  Their obsession with food, taking pictures of food and sharing their dining experience with their friends on social media outlets has made them a key market for nonprofits and an easy way to introduce them to a variety of charities.
So if you have a hungry stomach and a giving heart, check out some of the great Broward food and wine events:
Museums of Discovery & Science's Wine, Spirits and Culinary Celebration: 4/4/14
Las Olas Food and Wine Festival: 5/2/14
Riverwalk Trust Burger Battle: 5/23/14
Flipany's Chefs Up Front: August 2014
March of Dimes Signature Chefs Auction: 9/17/2014
JA Uncorked: January 2015
ARC Delish: March 2015
United Way's Women, Wine & Shoes Event: March 2015
Check out the article in Go Riverwalk Magazine, page 32.