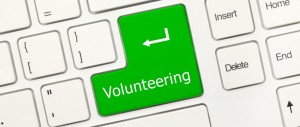 When the COVID-19 pandemic hit back in March, I truly thought I would be hunkering down for 2 weeks (and sending my loveable, yet energetic 4 year-old back to school).  When my husband suggested it might be 4 weeks, this extravert panicked.
With each passing week, I thought, "okay, I can do one more week."  Four months later and with no end in sight, we aren't just talking about the "new normal," but also planning for this type of life.
Like many companies that have employee volunteer programs, we are having discussions with our clients to determine how we can safely offer volunteer opportunities for employees as well as offer virtual volunteer opportunities.
Here are 9 ways, your company can (safely) plan for employees to volunteer:
1. Offer an online page on your company site for employees to sign up for virtual opportunities.  Check out our recent blog on virtual volunteering.
2. Consider launching Tutormate – an online platform that provides 1:1 online tutoring for struggling students who are learning to read fluently.
3. Send letters to military members serving overseas.
4. Send handwritten letters to senior centers/the elderly.
5. Select a charity and create virtual fundraising teams.  You can work directly with your favorite nonprofit or set up a Go Fund Me page.
6. Partner with a local food bank and host a virtual food drive to help those still struggling with food insecurity.
7. Have employees donate clothes to a local shelter.
8. Find a charity and participate in a virtual 5k.  I have a personal passion for St. Jude and they have a virtual walk  in September 2020.
9. If you have a current mentoring program, work with your partners to take it online.  Consider using Zoom, Skype or Google Hangout to implement.
While this extravert looks forward to human interaction again (it's the best part of volunteering for me!), we can use this moment to help worthy organizations and come together as a collective "virtual" group to help our community as well as those in need.