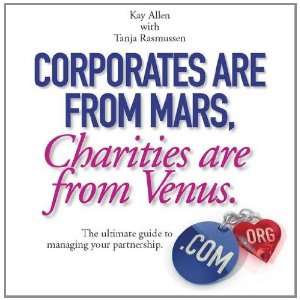 So often I sit in meetings and listen to how companies did not have a good experience when they sponsored a charity event and then on the flip side, hear how nonprofits say that they wish the company had maximized their sponsorship opportunity more.
To put it simply, companies are from Mars and nonprofits are from Venus. They speak different languages.  To really make the most of your corporate sponsorships and nonprofit partnerships, these two entities need to speak the same language.  And that common language is building a corporate philanthropy plan.  By building a plan, companies can put strategies in place and nonprofits will get more company engagement – a win/win for all.  There are three key elements to establishing a strategic philanthropic plan.
Assessment
First, you need to dive into the details and get an idea of past giving efforts. By asking five questions:
Five Questions to Assess Your Company's Giving History:
What has the company given in the past?
What types of organizations has the company supported?
How much money has been designated to those charities/organizations?
Who is involved in the company and on what boards/committees?
Who are our current nonprofit partners and how do they align with our corporate goals, values, and interests?
Assessment is such a critical part in the planning process because as the old saying goes, "you don't know where you're going until you know where you've been."  The assessment will give your company benchmarks that you can then track and evaluate year after year.
Plan
A strategic philanthropic plan is similar to a company's own strategic plan.  It puts philanthropic and/or community relations goals and strategies in place for the next 3-5 years that align with a company's current goals, values and business interests.
Five Key Elements of a Strategic Philanthropic Plan:
Solidifying a company's focus giving areas.  These are the 2-4 over-arching charitable areas that a company wants to support (Arts & Culture, Education, Health & Human Services, etc.)
Establishing giving guidelines. Determining the parameters that will guide a company in their corporate giving efforts.
Creating processes.  It's important to flush out what the nonprofit application process will look like as well as determine who will oversee certain initiatives.
Aligning the company with key organizations that meet their focus giving areas. This allows a company to determine what programs, volunteer initiatives, boards and events they want to best align themselves with.
Establishing measurements based upon the goals and objectives.
Execution
A plan without execution is no plan at all.  It's important to make sure that your company has an individual or systems in place that can make sure the plan is implemented.  The company needs to constantly be re-evaluating itself and making sure it is meeting the goals and objectives established in the plan.
When you build a strategic corporate giving plan, companies and nonprofits can then speak the same language.  And when they speak the same language, they can have a beautiful and meaningful relationship.
Kelly Unplugged
Would love to hear from you about some great partnerships between a company and a nonprofit that you are familiar with.
**Picture taken from Amazon.com