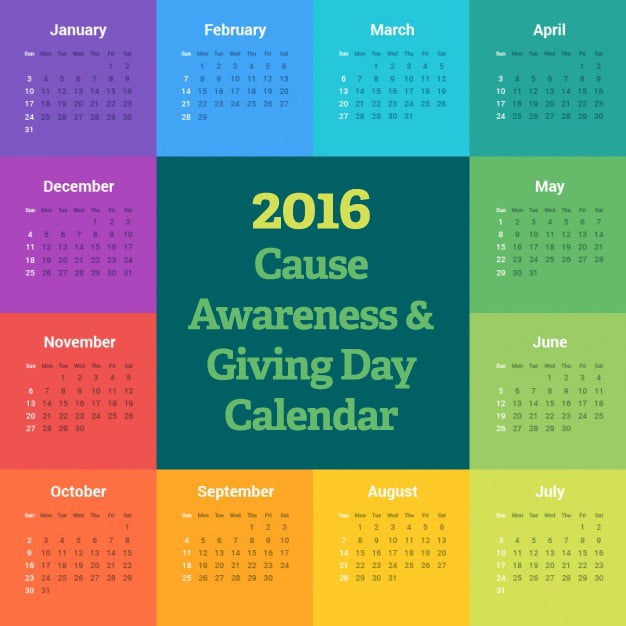 These days there is a day, week or month for almost every cause, charity, nonprofit (or food!). When planning your corporate philanthropy, community relations, corporate giving, or volunteer programs, it's always good do know what days or months you want to highlight that align with your company or employees' interest.
To make life easier, below is our cause awareness calendar – which includes not only causes, but holidays as well. It showcases what's going on each month so that you can plan accordingly. Some causes have specific days, so you'll need to confirm the date as they always change, but hopefully the below gives you an essence of how you can engage your employees with either awareness/fundraising campaigns or volunteer opportunities.
Cause Awareness Calendar
Plan your company's social responsibility and workplace giving programs around causes important to you. Use this list to see which causes have special awareness events each month.
January
• New Years Day
• World Religion Day
• Martin Luther King, Jr. Day of Service — #MLKDay
• Cervical Awareness Month
• Glaucoma Awareness Month
• Thyroid Awareness Month
• Blood Donor Awareness Month
• Birth Defects Prevention Awareness
February
• World Wetlands Day — #WorldWetlandsDay
• World Cancer Day — #WorldCancerDay
• Give Kids a Smile Day; Red Dress Day/Wear Red Day
• V-Day — #VDay or #1BillionRising
• National Donor Day
• Presidents Day
• World Day of Social Justice — #SocialJusticeDay
• World Spay Day — #WorldSpayDay
• World NGO Day — #WorldNGODay
• Rare Disease Day — #RareDiseaseDay
• Heart Health Month
• Black History Month
March
• Read Across America Day
• Employee Appreciation Day
• International Women's Day — #IntWomensDay or #IWD2014
• World Kidney Day — #WKD2014
• Digital Learning Day — #DLDay
• National Poison Prevention Week
• Saint Patrick's Day
• Kick Butts Day (a Campaign for Tobacco-Free Kids event)
• Downs Syndrome Awareness Day
• World Water Day — #WorldWaterDay or #WWD2014
• World Tuberculosis Day — #WorldTBDay
• Purple Day (Epilepsy awareness)
• Earth Hour — #EarthHour
• National Doctor's Day
• National Colorectal Cancer Awareness Month
• National Endometriosis Awareness Month
• National Kidney Month
• Red Cross Month
• National Multiple Sclerosis Education and Awareness Month Child Life Month
• National Nutrition Awareness Month
April
• World Autism Awareness Day — #WorldAustismDay
• Volunteer Week
• World Health Day
• Library Week
• Good Friday
• Easter
• Administrative Professional Week (Apr 22 is Administrative Professional's Day)
• PowerTalk21 Day (Mothers Against Drunk Driving) #PowerTalk21
• Earth Day — #EarthDay
• World Malaria Day — #WorldMalariaDay
• World Wish Day – #WorldWishDay
• National Autism Awareness Month
• Cancer Control Month
• Sexual Assault Awareness Month
• "Take Back the Night" National Campaign
• Parkinson's Disease Awareness Month
• Child Abuse Prevention Month
• Alcohol Awareness Month
• Youth Financial Literacy Month
May
• International Workers' Day — #IntWorkersDay, #MayDay or #LaborDay
• Public Service Recognition Week
• Teacher Appreciation Week
• Cinco de Mayo
• National Nurses Week (Nurses Day is May 6)
• National Women's Health Week
• World Fair Trade Day — #WorldFairTradeDay
• World Lupus Day — #WorldLupusDay
• Mothers Day
• Food Allergy Awareness Week (Check with FARE for ideas & info)
• Armed Forces Day
• National Bike to Work Day — #BikeToWorkDay
• International Museum Day — #IntMuseumDay or #MuseumDay
• Emergency Medical Service Week
• World No Tabacco Day — #WNTD2014
• Prader-Willi Syndrome Awareness Month
• National Military Appreciation Month
• Mental Health Awareness Month
• Skin Cancer Awareness Month
• Lupus Awareness Month
• National Arthritis Month
• Asthma and Food Allergy Awareness Month
• Brain Cancer/Tumor Awareness Month
• Osteoporosis Awareness & Prevention Month
June
• National Cancer Survivors Day
• World Environment Day
• World Oceans Day — #WorldOceansDay
• National Men's Health Week
• World Blood Donor Day — #WorldBloodDonorDay
• Fathers Day
• World Refugee Day — #WorldRefugeeDay or #RefugeeDay
• National HIV Testing Day
• National Safety Month
• LGBT Pride Month
July
• Independence Day
• WorldPopulationDay — #WorldPopulationDay
• Nelson Mandela International Day — #MandelaDay
• World Hepatitis Day
• Global Tiger Day — #GlobalTigerDay or #TigerDay UV Safety Month
August
• National Night Out (Against Crime)
• International Day of the World's Indigenous Peoples — #IndigenousDay
• International Youth Day — #IntYouthDay or #YouthDay
• World Elephant Day — #WorldElephantDay
• World Humanitarian Day — #WorldHumanitarianDay
• Cataract Awareness Month
• National Immunization Awareness Month
• Spinal Muscular Atrophy Awareness Month
• Medic Alert Awareness Month
September
• Labor Day
• Suicide Prevention Week
• International Literacy Day — #IntLiteracyDay or #LiteracyDay
• World Suicide Prevention Day — #WSPD
• Patriot's Day
• International Day of Peace — #IntDayOfPeace or #PeaceDay
• World Rhino Day — #WorldRhinoDay
• Rosh Hashanah
• World Rivers Day — #WorldRiversDay or #RiversDay
• Yom Kippur
• Hunger Action Month
• Ovarian Cancer Awareness Month
• Childhood Cancer Awareness Month
• Prostate Cancer Awareness Month
• Gynecologic Cancer Awareness Month
• Leukemia & Lymphoma Awareness Month
• Suicide Prevention and Awareness Month
• National Food & Safety Month
October
• Mental Illness Awareness Week
• World Animal Day — #WorldAnimalDay
• World Teachers Day — #WorldTeachersDay
• Customer Service Week
• World Cerebral Palsy Day
• World Mental Health Day — #WorldMentalHealthDay
• International Day of the Girl — #IntDayOfTheGirl or #DayOfTheGirl
• World Arthritis Day — #WorldArthritisDay
• Columbus Day
• World Food Day
• Bosses Day
• Sweetest Day
• Pro Bono Week
• Make a Difference Day
• Halloween
• National Breast Cancer Awareness Month
• Healthy Lung Month
• National Lupus Awareness Month
• National Spina Bifida Awareness Month
• National Liver Awareness Month
• Domestic Abuse Awareness Month
• Crime Prevention Awareness Month
• Down Syndrome Awareness
• Sudden Infant Death Syndrome Awareness
• Pregnancy & Infant Loss Awareness
• National Bullying Prevention Month
November
• Veterans Day
• World Diabetes Day — #WorldDiabetesDay 15: America Recycles Day
• Great American Smokeout
• Universal Children's Day — #ChildrensDay
• Thanksgiving
• National Alzheimer's Disease Awareness Month
• Lung Cancer Awareness Month
• Epilepsy Awareness Month
• American Diabetes Month
• Pancreatic Cancer Awareness Month
• Stomach Cancer Awareness Month
• Bone Marrow Awareness Month
December
• World AIDS Day — #WorldAIDSDay
• Giving Tuesday — #GivingTuesday
• International Day of People with Disabilities — #IDPWD2014
• International Volunteer Day — #IVD2014
• International Human Rights Day — #HumanRightsDay
• Hanukkah
• Christmas
• New Years Eve
• Drunk and Drugged (3D) Prevention Month
• MADD Month