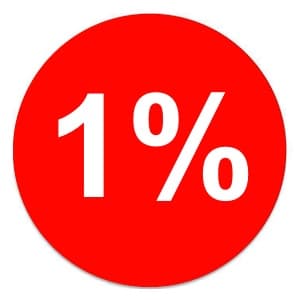 There has been a lot of buzz over the 2011 Giving USA Report and most of it has been good.  We saw in increase in charitable giving by households, foundations and estates.  While we're still not where we were in 2007, an increase is an increase and we'll take it at this stage in the game.  What was disturbing to some was that the business sector remained flat in their giving. Corporate donations stayed stagnant at $14.5 billion.  Yes, we know that too many, that is a big number but in the grand scheme of things it's not.
A Comprehensive Corporate Citizen is labeled as any company that gives a minimum cash commitment of 1 percent of a company's anticipated current year pretax profits (that's a mouthful!).  If you can imagine, most large companies give less than 1 percent of their pretax profits to charity.  Curt Weeden, author of Smart Giving Is Good Business states that if "all corporations were to move their cash giving to at least 1 percent of pretax net income, an estimated $7 billion to $8 billion in new funding would flow into the nonprofit world."
So why are we stuck on this measly 1 percent?  Currently the 1 percent is the national average.  Companies have a herd mentality when it comes to giving; they compare themselves to one another as a measurement tool for corporate contributions.  Some companies give a lot less, while others like Target give up to 5%.  What I find most fascinating is that the Internal Revenue Service allows corporations to deduct up to 10% of their pre-tax profits.  You would assume more companies would take advantage of this.
I know companies are in the business of making money, but we're not asking for a lot.  We're asking for ALL companies to increase their giving just a little to get to the 1 percent and make an even bigger impact in their community.  If the giving is done strategically and aligns with the company's goals, objectives and interests, then it would be money well spent.  Consider it.
Kelly Unplugged

Do you think is should be a requirement for all companies to give at the 1 percent?