I recently read an article in Fast Company titled "Meet The League Of Extraordinary Women: 60 Influencers Who Are Changing The World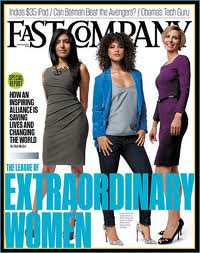 . These women are major players in the political, business, media, fashion and nonprofit world who are at the front lines pushing for companies to support women's issues around the world.  These sheros are pitching their employers (Nike, Facebook, Coca-Cola, Avon, ExxonMobil, HP, Bank of America and Google to name a few) to garner support and change the world.
You may be wondering what persuasion tactics these women used to get their companies on board to support educating or training women in impoverished counties and how you can convince your own company to support a worthy charity.  The answer is simple.  It needs to make business sense.
In this particular case, investing in women through philanthropy, grants and programs, has the potential of creating emerging markets in developing countries that tap as many as 1.4 billion new midmarket customers with a spending power of more than $12 trillion.  Yes, you read that right.  Those are numbers that will catch the attention of any executive or shareholder.  Companies are happy to give, especially when there is a business opportunity.
Idealists will argue that companies should give because it's their moral responsibility – and there's some truth to that.  However, using corporate philanthropy as a business strategy is a wonderful collaboration and encourages companies to continue to give even more.
So the secret is out: Get more money for your favorite charity by showing your company why it will make business sense.  Lastly, if you want to make an even greater impact on a charity or cause, round up your other powerful girlfriends and start your own League of Extraordinary Women.
Kelly Unplugged
Would love to hear how you convinced a company to support your favorite charity.