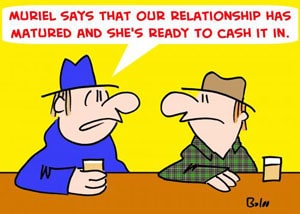 Finding Mr. or Mrs. "Right" can be tough.  So is finding the right company that wants a long-term relationship with your nonprofit.  Similar to dating, there are a lot of "fish" out there and the nonprofit world is no different.  There are 1.5 million nonprofits in the United States vying for the same grants, funds and corporate dollars.  But ever since the Great Recession, I've seen companies shift from check writing, to being more strategic with their philanthropic dollars. Companies are moving away from supporting numerous charities, to having true partnerships with a selected number of nonprofits (if only dating was that simple!).  So how do you get your nonprofit to be the one that companies want to give to or marry?
Be Flexible And Adapt
Companies constantly change and adapt to meet their customers demands – if they didn't, we wouldn't be in business.  It would be beneficial for a charity to do the same, since the company, in this case, is the customer.  Be open to the ideas a business offers to establish a partnership.  Yes, sometimes those ideas won't fit into a nonprofit's traditional business model and that's okay. It may not be a perfect situation or your prince charming, but hear them out.  It could lead to something.  And once a business sees that a charity is willing to have a true partnership and is not just asking for dollars, the money, employee engagement and company buy-in will be plentiful (you can thank me later!).
Be a True Partner
Now it's time to take the relationship to the next level and have a "true partnership." A true partner is a charity that offers a company various ways to get engaged and doesn't solely ask for a one time donation to a program or event (sounds like this could be serious).  A True Partner discusses year-around engagement.  Show a company that you want us involved with your volunteer efforts, programs, board or committees, advocacy efforts, speaking opportunities, etc. If we're going to invest in your charity, then we want to get behind all that your nonprofit has to offer.
Trends show that companies are tired of having just a first date with a nonprofit.  They are looking for a lasting and meaningful relationship.  If you can adapt and be flexible (guess Mom was right) and offer a business a true partnership, you may get so embedded with the company that it would be hard to divorce your charity.
Kelly Unplugged
Can you share some examples of companies who've had long relationships with a nonprofit?